Greetings Primates!
Evil Ash checking in again.
This is the fifth installment in a six-part series looking back on classic, and in some cases, groundbreaking films that are all celebrating their 50th Anniversary this year.
Thanks for your comments, opinions, and clicks on last weeks look back at A Clockwork Orange. As always, I hope that you will continue to enjoy these articles, share them with others, and – as always – leave your comments in the Disqus forums. In the last installment we entered the neurotic mind of Stanley Kubrick and the dystopian world of The Droogs.
This week, we get to the bottom of everyone's hatred of Grandpa Joe and cash in our Golden Ticket in Mel Stuart's 1971 cult classic Willy Wonka & The Chocolate Factory.

50 years ago, Stuart's Willy Wonka & The Chocolate Factory wasn't exactly burning down the box office. Released by Paramount Pictures in June 1971, the film grossed $4.5 million on a $3 million budget. Much like Ridley Scott's Blade Runner, released just over 10 years later, people didn't know what to make of Stuart's now-classic film. Was it a children's story? was it a horror movie? A dark sinister comedy? The film was ahead of its time and people just didn't respond to it.
Willy Wonka & The Chocolate Factory is an adaptation of legendary British novelist and poet Roald Dahl's 1964 classic children's novel Charlie & Chocolate Factory. One cannot speak briefly about Dahl's life and career. In 74 years on this earth, he was a fighter pilot, intelligence officer, diplomat, James Bond writer, television host, novelist, poet, screenwriter, and on and on. The man lived a full life.
It also needs to be said that Dahl was a controversial man who was, at times, openly antisemitic, something for which his surviving family has apologized for, back in 2020.
As told in the 2001 documentary Pure Imagination: The Story of Willy Wonka & The Chocolate Factory, Stuart's young daughter had read Dahl's novel and loved it. She told her father that he should make it into a movie. Stuart showed the novel to his producing partner and close friend David Wolper. Wolper, at the time, was working with Quaker Oats to try and find a project that would help promote a line of chocolate bars that the company was making. The producer convinced Quaker Oats to finance Charlie & The Chocolate Factory, and the suits at Quaker Oats saw a potential merchandising goldmine.
With a deal in place for Quaker Oats to put up millions to finance the ambitious project in exchange to mass-produce the Wonka Bar, the title of the film would now be changed to Willy Wonka & The Chocolate Factory, and Dahl would write the screenplay… as a musical. Screenwriter David Seltzer (The Omen) would make considerable rewrites to the script, much to Dahl's objections. Seltzer would give the evil candy maker and spy "Slugworth" a much larger role in the film.
When it came time for casting Willy Wonka & The Chocolate Factory, there was no shortage of comedic actors who wanted to play the enigmatic titular character. In fact, all six members of the Monty Python comedy troupe (John Cleese, Graham Chapman, Michael Palin, Terry Gilliam, Eric Idle and Terry Jones), were interested in taking on the iconic part, but all were rejected by Paramount Pictures as not being big enough stars at the time. In addition to the Python crew, Jon Pertwee, Peter Sellers, Spike Milligan, Joel Gray, and even an aging Fred Astaire, were all considered for the part.
Below, actor Gene Wilder tells CNN's Larry King his unusual condition for accepting the part he would become most famous for.
Wilder, would reflect back in an interview in 2006. Specifically, about the Charlie & The Chocolate Factory remake that director Tim Burton had just completed production on with star Johnny Depp. The remake was to be a darker and more "faithful" adaptation of Dahl's novel. Wilder, in what you might call a bitter tone, stated as follows:
"Tim Burton did Edward Scissorhands and Beetlejuice and Batman. He's not going to do anything close to what we did. I'm sure it's going to be very scary and my bet, my guess is, it will be geared towards teenagers rather than for pre-teens. I think he wants to scare the shit out of everyone. And he probably will."
American child actor Peter Ostrum was plucked from obscurity when he was in the 6th grade, performing in a local play in his native Cleveland, Ohio. He was noticed by talent scouts who were on the hunt for a charismatic and sympathetic pre-teen who could play the co-lead role of Charlie Bucket. Ostrum was flown out to New York City for a screen-test, and before he knew it, was on a flight to Munich, Germany, to begin production on his first, and only film. Ostrum would become a successful veterinarian, and he still periodically gives interviews and appears on commentary tracks with regards to his time in the spotlight.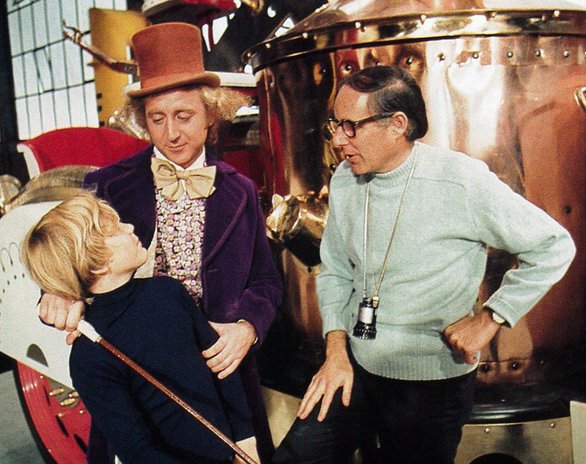 Character actor of stage, screen and TV, Jack Albertson (Chico & The Man), was signed on to play the role of Grandpa Joe, one of Charlie's four bed-ridden grandparents, who suddenly jumps up like an Olympian when there's free chocolate to be had. Grandpa Joe also apparently has plenty of money for tobacco while the rest of the family wallows in poverty and has to survive on cabbage soup.
The Oscar and multiple Emmy award-winner was 64-years-old when he took on the iconic part, and it would change his life, and the meme landscape, for the rest of time.
The deep dive I did online regarding the loathing for this character is astonishing. There's a pretty well populated Facebook page that you can go on that's dedicated to the hatred of poor Grandpa Joe. The campaign against Joe seems to go back at least 15 years online, and it's pretty clear that the makers of Willy Wonka & The Chocolate Factory meant for you to love this lazy, yet lovable character. This backfired horribly, as everything, from his hatred of women to his sloth-like behavior while the rest of his family suffered, has been well documented online. There are even theories online that Grandpa Joe was an industrial spy, given his astute knowledge of Wonka's business dealings.
The cast of Willy Wonka & The Chocolate Factory would be rounded out by Michael Böllner, playing the glutinous 9-year-old obese antagonist Augustus Gloop. Chewing gum obsessed Violet Beauregarde was portrayed by the late Denise Nickerson. Veruca Salt the spoiled rotten pre-teen, was played by British singer/songwriter Julie Dawn Cole. Mike Teavee the television-obsessed 9-year-old boy, was portrayed by Paris Themmen; and German character actor Günter Meisner, portrayed the evil Slugworth Wonka's rival chocolatier, and purveyor of the popular Sizzler candy bar.
In early printings of Dahl's novel, the Oompa-Loompa characters (small orange-colored humans who worked in Wonka's factory) were originally called Whipple-Scrumpets and written as black African pygmies. For the 1971 film, this was changed due to protests by the NAACP that the importation of the Oompa Loompa's from Africa, to work in a factory, had slavery implications. The Oompa Loompa's were all played by white actors with green hair, striped shirts, and baggy lederhosen.
Following the release of the film, Dahl defended himself against accusations that he was racist and was deeply moved by the outpouring by activists. He rewrote the Oompa Loompa's to be white-skinned for future publications of his novel. Below actor Rusty Goffe (Star Wars: Episode IV), who was in his early 20s when cast as one of the ten Oompa-Loompas, talks about being on set in Germany, his camaraderie with the cast, and other memories from his time in Wonka Land.
Filming on Willy Wonka & The Chocolate Factory commenced in August 1970, and primarily was shot in Munich, West Germany, as the people at Quaker Oats would save a significant amount of money filming there over the United States. The locations and exterior shots also were fitting for the factory setting and the European feel that contributed to the unnamed location of the chocolate factory. Bill's Candy Shop was filmed at Lilienstraße, Munich, and the closing scene in which the Wonkavator is flying above the factory is overhead footage of Nördlingen, Bavaria.
During production, there was great bonding between the adult actors, the children, and director Stuart. Additionally, it's been reported that the actors that played the Oompa Loompa's were quite the merry pranksters. Actor Paris Themmen reflected on this in 2014:
"The Oompa Loompas were notoriously mischievous. They were often drunk after a day's shooting. We all stayed in a hotel together. In those days, when you wanted to have your shoes shined, you'd leave them outside of your hotel room door. One night the Oompa Loompas grabbed all the shoes, tied the laces together, and left them in a pile to be found in the morning."
During filming, on the elaborate sets that were built for the surreal children's movie, all of the candy that was on set was not real. Unless one of the actors was actually eating a piece of candy, it was most likely a fake piece of candy. Many of the Wonka Bars that were used in the film were made of wood. One thing that WAS real was the Chocolate River. The river was made up of 150,000 gallons of water, combined with real chocolate, and cream. By the end of the film's production, the river was emitting a horrible smell.
Screenwriter Robert Kaufman was brought in to add some humorous scenes relating to the Wonka Bar craze. Stuart would later state that his favorite scene in the movie was cut because of poor showings with test audiences. The scene, which was filmed and quite expensive to shoot, shows an English explorer climbing a mountain. He asks a guru what the "meaning of life" is. The guru asks for a Wonka Bar. Finding no Golden Ticket, the guru states, "Life is a disappointment."
Stuart loved the scene and wanted it in the film, but in the early 1970s people hated it. Stuart had a psychologist friend review the scene. He told Stuart –
"You don't understand, Mel. For a great many people, life is a disappointment!"
While Willy Wonka & The Chocolate Factory received generally favorable reviews upon its release (Roger Ebert and Charles Champlin both loved it), it just didn't click with audiences the way Paramount and Quaker Oats thought it would, earning just over $2.1 million during its opening weekend. It would be via home media, television, and eventually the internet that the movie would gain its legs.
By the 1980s, the film had gained in popularity due to repeated TV broadcasts, home video sales, and a cult following throughout college campuses. In 2003, Entertainment Weekly ranked Willy Wonka & The Chocolate Factory 25th in the "Top 50 Cult Movies" of all time.
As could be predicted, Dahl hated the film, and the script, because of rewrites by screenwriter Seltzer. Dahl expressed his disappointment in that too much attention was on Willy Wonka and not enough focus was on Charlie. He also hated the casting of Wilder over Spike Milligan as well as the reworking of the Slugworth character. Finally, he thought that there were way too many musical numbers incorporated into the film.
Dahl's second wife, Felicity, would later state in 1996 about her husband's dislike towards the film:
"…They always want to change a book's story-line…What makes Hollywood think children want the endings changed for a film, when they accept it in a book?"
The true delight of this film comes in the musical numbers that are throughout the film. From the opening Candy Man to the classic Pure Imagination, these Oscar-nominated arrangements (composed by Leslie Bricusse and Anthony Newley) have stood the test of time.
It is a magical combination of psychedelics mixed with a never-ending sense that it's always Xmas morning. Wonka's Everlasting Gobstopper is a fitting symbol for this film. Wilder's warmth, wit and humor make his Willy Wonka one of the defining roles of his career, and he's had a few of them.
Wilder was able to capture the full range of emotions and behaviors needed to portray Wonka's strangeness so well, and he does it with such ease. It's as if Wilder and Wonka are one and the same person. When you see Wilder, you immediately think of Wonka. Wilder has frequently recounted the story of being in a grocery store with his mother, and how his mother delighted in telling a few nearby children that they were in the presence of the great Willy Wonka.
Next week…in the FINAL installment, we enter the world of George Lucas and visit the future…where love is the ultimate crime.

Sound off Outposters and let me know what you think!
Hugh "Evil Ash" Feinberg
To read the A Clockwork Orange 50th Anniversary – Click here
To read The French Connection 50th Anniversary – Click here 
To read the Diamonds Are Forever 50th Anniversary – Click here