Greetings Primates!
Evil Ash checking in again.
This is the sixth and final installment in a series that's looked back on the classic, and in some cases, groundbreaking films that are all celebrating their 50th Anniversary this year.
Thanks for your comments, opinions, and clicks on last weeks look back at Willy Wonka & The Chocolate Factory. As always, I hope that you will share this with others, and – as always – leave your comments in the Disqus forums.
In the last installment we marveled at Gene Wilder, the music maker, the dreamer of dreams. This week…I finally get to talk about Sid Haig! Let's revisit George Lucas's directorial debut and a dystopian science fiction classic (another one), 1971's THX-1138.
There's a lot of things you can say about Lucas, some good, some bad. He's the creator of one of the great cinematic universes in history. People say he also may have helped destroy it. A brilliant artist and writer, yet terrible when it comes to directing actors?
One thing for sure, he knew how to diversify, as his first two directorial efforts, THX-1138 (1971) and American Graffiti (1973) are polar opposites.
The former, a dystopian science fiction story about a futuristic drug-addicted world, where there is only conformity, passivity and control. The latter, a coming of age look at rebellious teenagers in California, driving hot-rods, and listening to Rock & Roll in 1962 – the last day of Summer vacation and innocence.
With the Hollywood studio-system crumbling in the late 1960s, we saw the rise of independent film, and some of the great filmmakers in history. Directors such as Hal Ashby, Robert Altman and Peter Bogdonovich were rising stars in the early 1970s, making their mark. Putting out such landmark films as M.A.S.H (1970) and Harold & Maude (1971).
There was another group of directors that were emerging into the mainstream. They all would become masters and had a thing for beards. They were John Milius, Brian DePalma, Paul Schrader, Steven Spielberg, Francis Ford Coppola, Martin Scorsese, and George Lucas. Affectionately referred to as "The Movie Brats."
These so-called "brats" weren't a part of the studio system. Rather, they were scholars and artists who learned their skills in film school. Lucas and Milius studied at USC. Coppola went to UCLA film school (with fellow artist Jim Morrison). Scorsese, the New Yorker, went to NYU Film School, and De Palma studied at New York's Columbia University.
Spielberg, who was the true wunderkind of this bunch, didn't bother to wait for college and his peers in order to get started. He would begin to make homemade 8mm films in the late 1950s when he was only 11 years old. Eventually, Spielberg would enrol at California State University, Long Branch.
Lucas would direct the short film Electronic Labyrinth: THX 1138 4EB in 1967, and it would go on to win first prize at the 1967–68 National Student Film Festival, which was sponsored by Warner Bros. Lucas was given a student film-scholarship by the studio and was additionally allowed to assist on any film that the studio was financing.
That film was Finian's Rainbow (1968), directed by Coppola, who was already widely considered a "master" by the indie-film school circuit, and in student film circles. He was seen as a successful scholar and someone who had "made it" in Hollywood. In 1969, Lucas would also operate the cameras on the tragic/classic Rolling Stones concert film Gimmie Shelter.
In 1969, Lucas and Coppola co-founded American Zoetrope, intending to create an environment for young filmmakers, where they could work in freedom, outside the Hollywood system. 51 years later, the studio still operates in San Francisco and has been responsible for some of the great films of the last century, earning 15 Oscar wins.
Below, director George Lucas talks about American Zoetrope and how his first directorial feature, THX-1138, got off the ground.
THX-1138 was originally conceived by Warner Bros. as the first film of a planned seven-picture partnership with American Zoetrope. Lucas had written the initial draft of the script, but Coppola and Lucas both agreed that it wasn't good enough. Editor and sound designer Walter Murch (The Conversation, Touch of Evil) was brought in to help with the final draft.
Oscar-winning actor Robert Duvall had been acting in film since 1962 when he portrayed the sympathetic recluse "Boo Radley" in Robert Mulligan's adaptation of To Kill A Mockingbird. Duvall had become fast friends with Coppola while working with him on The Rain People (1969). He would soon become part of the American Zoetrope "stock company."
Duvall was recommended to Lucas by Coppola for the title character of THX-1138. For the part, Duvall – like most of the cast – had to shave his head. As a publicity stunt to raise hype for the film, several actors were filmed having their head shaved. The result would be a short feature entitled Bald: The Making of THX-1138 which I have embedded for you below.
As referenced earlier, one of my all-time favorite character actors, Sig Haig had a small part in THX-1138, playing the character of "NCH." Haig, a trained dancer, actor, and Pasadena Playhouse student was well respected by the alumni, which included Dustin Hoffman, Gene Hackman, Charles Bronson, and Robert Preston. Haig didn't even have to audition.
Haig loved the script, and enjoyed the experience, but thought the whole process of working for Lucas as "weird" as Lucas never really gave much direction. The director would show up in the morning, give some indication as to what he wanted, and then leave for the whole day. Returning in the late afternoon to see what the players had worked out.
The cast of THX-1138 was rounded out by Donald Pleasence as SEN 5241, Don Pedro Colley as the hologram SRT, Maggie McOmie as LUH-3417, Ian Wolfe as the old prisoner PTO, Marshall Efron as prisoner TWA, John Pearce as prisoner DWY and James Wheaton (from the incredible Black Belt Jones), as the voice of OMM-0910.
THX-1138 would showcase a Lucas staple; the focus on visual detail. This drives the plot, rather than the actions and words of the actors. Lucas has described his films as being a 50/50 split of both sight and sound and everything in THX-1138 is white, bleak, and filled with nothingness. All the people are dressed in identical white clothing, shaved heads, and named by prefix and number.
Throughout the film Lucas makes you HEAR the incredible size and nothingness of the vast underground city via deep hisses and echos. We also hear the distorted sounds of people talking about "control" and "surveillance" via radio. Lucas drives home the Orwellian concepts throughout the film, yet we never actually know WHO is behind the curtain.
Filming on THX-1138 began in September 1969, and was shot mostly in the San Francisco area. Quite the place to be culturally at the time. Filming took place in the unfinished Bay Area Rapid Transit (BART) subway system, as well as the beautiful Frank Lloyd Wright-designed Marin County Civic Center.
Interior studio sequences were shot on a custom-built stage in Los Angeles, which was a white 100 feet long by 150 feet wide stage that was specifically built for the "white limbo" sequences. The final effect is impressive and unsettling.
The film also included a spectacular chase scene between a modified Lola T70 racing car and modified Yamaha TA125 replica motorcycles. The chase ran through two San Francisco tunnels: the Caldecott Tunnel and the underwater Posey Tube, which ran through Oakland and Alameda. The speeds during this chase often reached 140mph.
Set in the future, humans in THX-1138 live in underground cities where free will is outlawed via medication that controls emotions. When THX-1138 (Duvall) and LUH-3417 (McOmie) stop taking their meds, they see the dismal reality of life, while falling in love in the process. However, love and the act of making love is illegal, and they both become outlaws, on the run from an army of robotic police.
Once THX-1138 was completed, Coppola had scheduled a year for Lucas to work on editing the film and to work on post-production. Lucas and Murch spent time in Lucas's Mill Valley home, working on the sound and visuals of the film. All of the "overhead" voices that you hear throughout the film (announcements, radio banter, etc.) were created by Murch.
With editing and post-production completed, Coppola took the finished product to the money people at Warner Bros. There, the studio big-shots disliked what they saw, and insisted that Coppola turn over the original print of the film to in-house editors at Warner. They would cut approximately 4 minutes of the film prior to its initial release.
Below, sound designer and co-writer Murch talks at length about how he created the incredible sound montages on this classic film.
THX 1138 was released commercially in March 1971 and barely broke even, earning back $945,000 on an $800,000 budget. Eventually, the film would become a cult-favorite, turning over a profit after years and years of rentals by college students and film geeks. In a 1999 interview, Lucas summarized the message he was trying to deliver in his directorial debut –
"Modern society is a rotten place thing, and by God, if you're smart, you'll get out and try to escape. Start an alternative civilization above ground, out of the sewer you find yourself in."
While the movie was too ahead of its time to truly appeal to a broad commercial audience, a lot of influential critics responded favorably to it. Vincent Canby of the New York Times referred to the film as "stunning" while Roger Ebert of the Chicago Sun-Times gave it 3 out of 4 stars, stating:
"THX-1138 suffers somewhat from its simple story-line, but as a work of visual imagination it's special, and as haunting as parts of 2001: A Space Odyssey, Silent Running and The Andromeda Strain."
Over the ensuing decades, THX-1138 has continued to earn critical raves and is now widely seen as a science-fiction classic. It has an approval rating on Rotten Tomatoes of 86% (based on 63 reviews), and the consensus review states:
"George Lucas' feature debut presents a spare, bleak, dystopian future, and features evocatively minimal set design and creepy sound effects."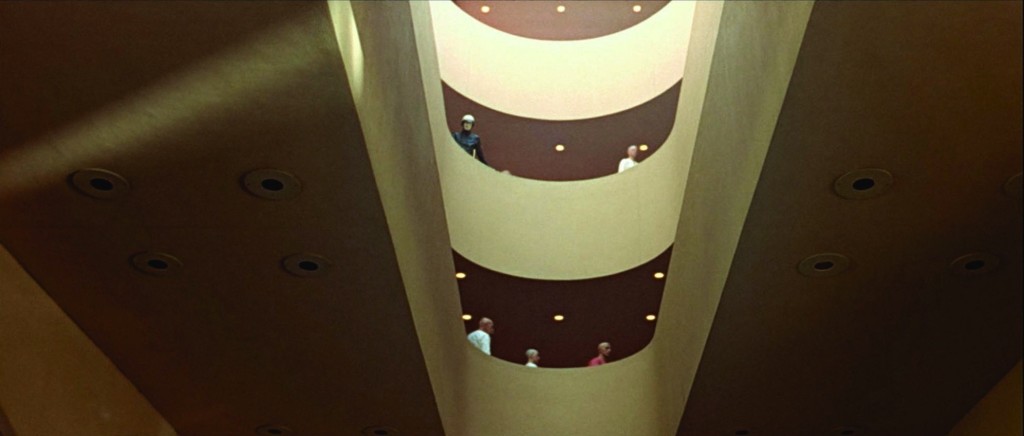 As would be Lucas's signature move over the next 50 years, he wasn't done with THX-1138 after it was released. In 1977, with Star Wars becoming a global smash hit, Lucas re-released THX-1138 with the footage that had been removed by Warner Bros. This version was 86 minutes and released on VHS and LaserDisc.
In 2004, Lucas released the  "George Lucas Director's Cut" of THX-1138 and, under his supervision, the film was digitally restored via his Industrial Light & Magic visual effects company. New computer imagery and sound effects were also added which increased the run time of the film to 88 minutes.
Upon its re-release in 2004, the film received an "R" rating (for "sexuality/nudity") from the MPAA (the original film was rated "GP", later to become "PG"). To date, THX-1138 remains the only film directed by Lucas to have an "R" rating.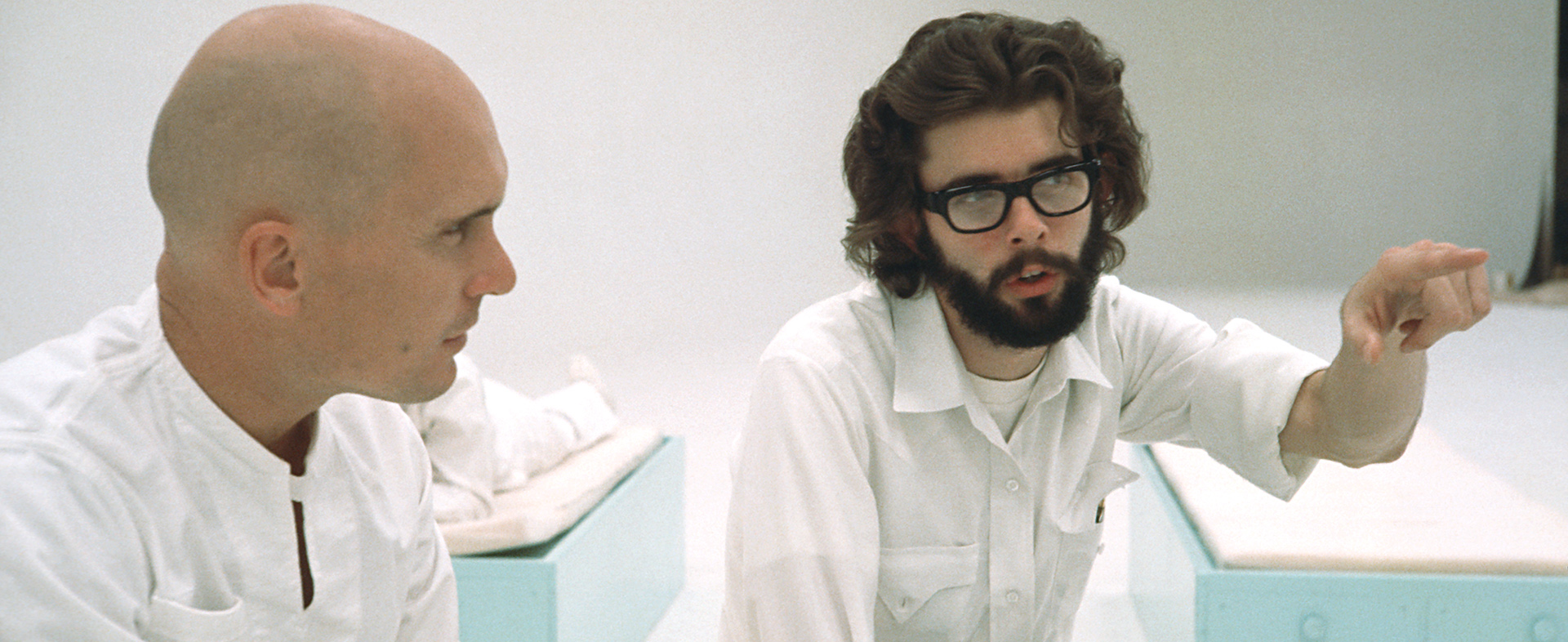 While THX-1138 wasn't a commercial hit, it managed to plant the seeds of Lucas's ability for world-building. Since American Zoetrope didn't have the technology at the time to help Lucas fulfil his vision, Lucas created it himself. The film paved a path for Lucas. A path that would be fully-realized 6 years later when he released one of the great cinematic marvels ever.
Thanks for reading, enjoying, and commenting on this series. I'll be back soon with a series of articles on such things as The Evil Dead (my namesake!); The military exploits of Thomas Sullivan Magnum IV; The five greatest action stars of all-time; and a critical analysis of LOST, one of the greatest character-driven shows in the history of American television.
Sound off Outposters and let me know what you think!
Until next time…
Hugh "Evil Ash" Feinberg
To read the A Clockwork Orange 50th Anniversary – Click here
To read The French Connection 50th Anniversary – Click here 
To read the Diamonds Are Forever 50th Anniversary – Click here