Greetings Primates!
Evil Ash checking in again.
This is the third installment in a six-part series looking back on classic, and in some cases, groundbreaking films, that are all celebrating their 50th Anniversary this year.
Thanks for your comments, opinions, and clicks on last weeks look back at Diamonds Are Forever. As always, I hope that you will continue to enjoy these articles, share them with others, and – as always – leave your comments in the Disqus forums. While last week we paid homage to the end of an era, this week, we witness the beginning of one. Enjoy this look back at the start of Clint Eastwood's legendary franchise; the 1971 neo-noir classic Dirty Harry.

Clint Eastwood was having a hell of a year in 1971. After toiling away since the mid-1950s in TV and films – appearing in such vehicles as Francis In The Navy and The First Traveling Saleslady – he settled into, what appeared would be a comfortable life as a television actor, appearing in 217 episodes of the CBS Friday night staple, Rawhide. In the early 1960s, the show was peaking, reaching #6 in the Nielsen Ratings, and millions of people watching every week. It seemed as if Eastwood's ticket had been punched.
In late 1963, Eastwood's friend and co-star, Eric Fleming had turned down the offer to travel to Spain and appear in an Italian made Western for then unknown director Sergio Leone. Eastwood was recommended to Leone as he was a rising TV star in the United States and could play a cowboy easily and convincingly. Eastwood was also intrigued by the script, which was a remake of Yojimbo, the Akira Kurosawa 1961 classic, of which the Leone script was a remake of. Eastwood agreed and signed a contract for $15,000 to star in A Fistful Of Dollars (1964) and, as we all know, the rest was history. The names Clint Eastwood and Sergio Leone would become synonymous with each other, and Eastwood would go on to have one of the great careers in the history of cinema, both as an actor and as a director.
Eastwood's meteoric rise would continue all throughout the late 1960s and into 1970, starring in such classics as Hang Em' High, Coogan's Bluff, and Where Eagles Dare, all released in 1968, as well as the so bad it's good musical, Paint Your Wagon (1969). In 1970, Eastwood and director Don Siegel would team up for the first time, putting out the grossly underrated Two Mules For Sister Sara, co-starring a fantastic Shirley MacLaine. Eastwood, that same year (the man was busy), also put out one of my personal favorites, the World War II crime caper comedy/drama Kelley's Heroes.
At this point, Eastwood would begin to exert a meticulous control over his career that would last until present-day, as Kelley's Heroes would be the final film that Eastwood was in, that wasn't produced by his newly formed production company, Malpaso Productions.
The original script for Dirty Harry was about a tough New York City detective named "Harry Callahan" who was hunting a serial killer named "Travis." This was loosely based on the active "Zodiac" investigation that was taking place in and around San Francisco. Numerous drafts of the script were written, and the setting of the film changed multiple times, before finally settling on the San Francisco area, a part of the country that would become a mainstay for Eastwood's films for years.
As I'm sure most know, Eastwood wasn't the first choice to play the role of Harry. Originally cast was crooning legend and Oscar-winner, Frank Sinatra. However, he dropped out because of a hand injury he received filming The Manchurian Candidate almost a decade earlier. John Wayne was offered the role but turned it down for its excessive violence, and not wanting Sinatra's leftovers. As much as I love Duke, he would have been out of his element in this, as evidenced by his hard to watch movies, Brannigan and McQ, which he would film a few years later. Robert Mitchum, Burt Lancaster, Steve McQueen, Paul Newman and George C. Scott were all offered the role, and turned it down.
It got to the point that because of the inability to find a star for this vehicle, the rights were sold to ABC television, who wanted to adapt it for the small screen. However, due to the excessive violence, they passed, and sold the rights over to Warner Brothers. With numerous writers such as John Milius and Terrence Malick working on different versions of the script, Paul Newman recommended to the studio that Eastwood, a staunch conservative, might be a good fit for the right-wing leaning detective. Now, having sufficient juice in Hollywood, Eastwood accepted the role, on the condition that Siegel be brought on as director (they had worked together on three films by this point) and that it be produced by Eastwood's Malpaso Productions.
Below is writer Milius, reflecting on his time working on Dirty Harry and with Eastwood. Milius would again reunite with the actor, to co-write the script for the fantastic 1973 Dirty Harry sequel, Magnum Force.
Eastwood would later say in 2009:
"So I said, 'I'll do it,' but since they had initially talked to me, there had been all these rewrites. I said, 'I'm only interested in the original script'…The rewrites had changed everything. They had Marine snipers coming on in the end. And I said, 'No. This is losing the point of the whole story, of the guy chasing the killer down. It's becoming an extravaganza that's losing its character.' They said, 'OK, do what you want.' So, we went and made it."
With the production moving to San Francisco, the idea was to now have the villain be similar in comparison to the Zodiac killer, whose recent string of murders had gripped the Bay Area, and to this day remains unsolved. The decision was made to rename the killer "Scorpio" (similar in idea to "Zodiac"), and his goading of the authorities was also added; again, similar to the Zodiac Killer.
If you can believe this, Siegel had originally wanted World War II hero and western movie star Audie Murphy to play Scorpio, but Murphy tragically was killed in a plane crash right before production started. James Caan was also in the running for the role. However, Andrew Robinson (Charlie Varrick, The Drowning Pool) was eventually cast as Scorpio because Siegel and Eastwood had seen him in a stage production of Dostoevsky's The Idiot. Siegel especially liked him, because he had the face of "a choir boy." 50 years later, his portrayal holds up, as his performance is sadistic and riveting.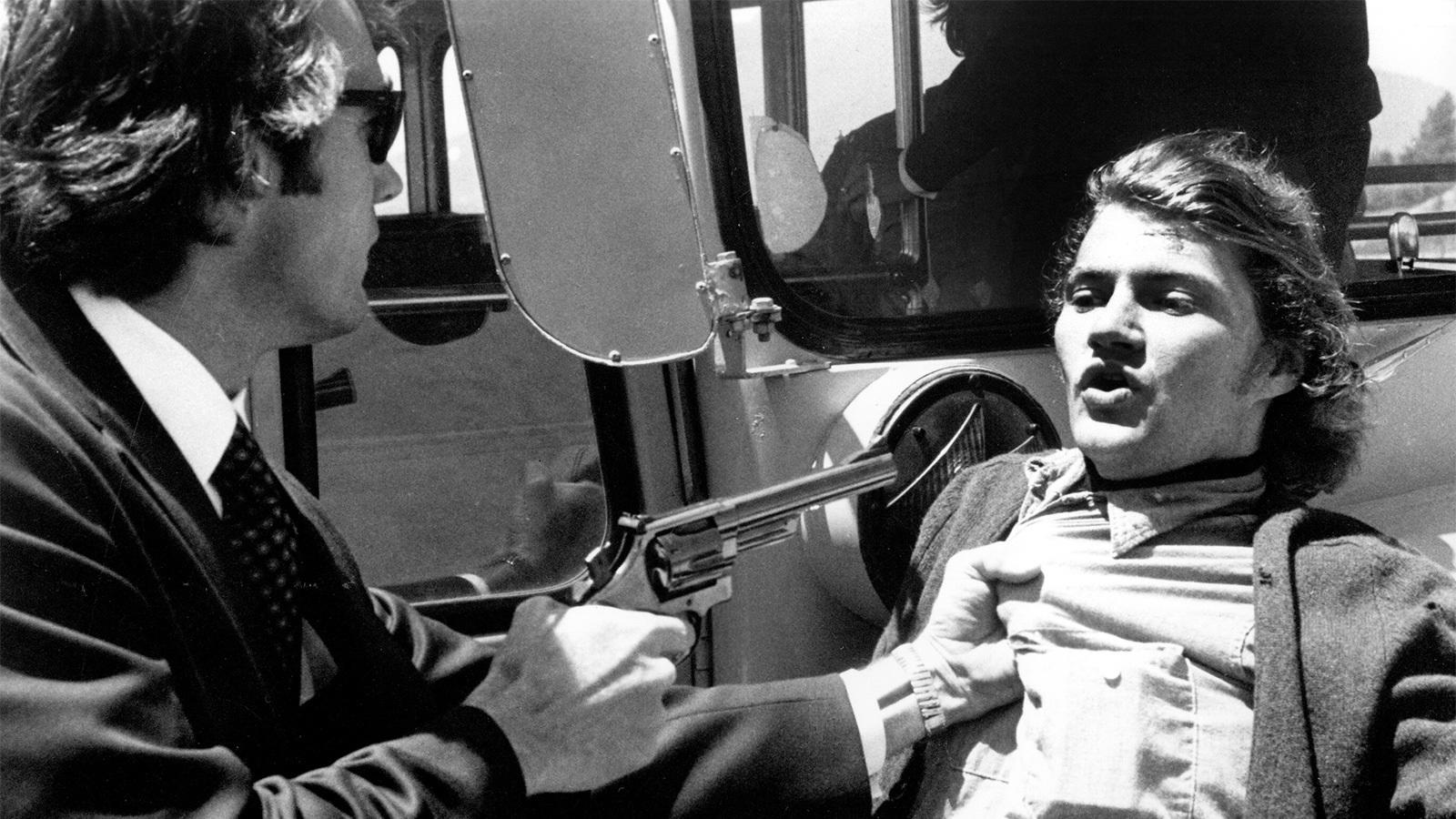 Principal photography for Dirty Harry began in April, 1971, and boy, is it a beautiful movie to look at. It's filmed all over The Bay Area, and the locations range from the massive, wide open Kezar Stadium, to Golden Gate Park, to seedy strip clubs in Chinatown, that are still there, 50 years later (I checked). It's one of the best San Francisco movies you'll ever see, along with Invasion Of The Body Snatchers, Bullitt and 48 Hrs.
According to a piece that appeared in Life, Eastwood directed the suicide jumper (played by legendary stuntman Bill Couch) scene when director Siegel was sick with the flu. In a sign of what was to come with regards to Eastwood's efficiency as a director, the scene, which was calendared for six nights of shooting, was completed by Eastwood in a single night.
The only scene that was not shot on location, was the bank robbery/diner sequence. This was actually filmed on the lot of Universal Studios in Los Angeles. The scene, which is a side plot to the films main story, has Inspector Callahan asking the owner of the diner to call the police, and report a bank robbery in progress. Callahan then proceeds to exchange gunfire with the perpetrators, which, at its end, leads to arguably one of the great line readings in pop-culture history, uttered by Eastwood:
"Ah, Ah, I know what you're thinking. Did he fire six shots or only five? Well, to tell you the truth, in all this excitement, I've kinda lost track myself. But being as this is a .44 magnum, the most powerful handgun in the world, and would blow your head clean off, you've got to ask yourself one question: "Do I feel lucky?" Well, do ya, punk?"
Harry Callahan's gun, used throughout the film, is a .44 Magnum, an extremely large and phallic gun that is often commented on during the film, and becomes something of a running gag, thereby injecting a bit of humor into an otherwise brutal and savage movie.
One of the more amusing lines in Dirty Harry, "My, that's a big one" uttered by Scorpio when Callahan removes his .44 Magnum, was actually an ad-libbed line by Andrew Robinson. The cast and crew broke into hysterics because of the double-meaning and suggestive tone of the line, and the scene needed to be shot again. However, Milius and Eastwood loved it, and the line remained in the finished film.
Much like Popeye Doyle in The French Connection, Harry Callahan is an anti-hero; a detective that goes against the grain and refuses to conform to the "norms" that all police officers and detectives are expected to follow.
In Dirty Harry, Callahan, wanting to know the location of a teenage girl that has been kidnapped, ignores Scorpio's begging for a lawyer and doctor, and digs his shoe deep into Scorpio's wounded leg; thereby eventually getting the information he needs. His unorthodox methods yield results. However – later in the film – the District Attorney informs Callahan that because of the numerous civil rights violations he has committed, most of the evidence against Scorpio is deemed inadmissible and tossed, leading to his release, without being formally charged.
Throughout Dirty Harry, and all four of its sequels, Callahan is routinely regarded as a "rogue element" within the SFPD, and is often at odds with his superiors. While he usually gets results, the people whom he has to report to are none too pleased at the high death toll and constant destruction of property that is left in his wake. During the film, there are several explanations offered as to how "Dirty Harry" received his nickname. When Harry's new partner "Chico Gonzalez" inquires about this, "Frank DiGiorgio" a longtime colleague and close friend of Callahan's, quickly buts in and says the following:
"…that's one thing about our Harry, doesn't play any favorites. Harry hates everybody: Limeys, Micks, Hebes, Fat Dagos, N*ggers, Honkies, Chinks, you name it…"
It was harsh and uncalled for racist language, but, much like Popeye Doyle's utterances in The French Connection, it was how a significant segment of our culture and society was back then, especially in law enforcement in the big cities. Directors of the early 1970s, such as William Friedkin and Don Siegel wanted the viewing public to see this up close and personal.
The ironic thing is that throughout the entire Dirty Harry franchise, the people who Harry Callahan was closest to, and respected most, were primarily minorities, African-Americans, and women. If you've watched these movies, regardless of what DiGiorgio says, you'd know that Harry Callahan was not a racist. He just was sick and tired of all the red-tape that you had to go through to put down rapists and murderers.
Setting the record straight, and after talking down the suicide jumper, Callahan states in passing that he's called "Dirty Harry" because he is assigned "every dirty job that comes along." Gonzalez further opines that he is called this because he "always gets the shit end of the stick."
During the bank robbery shootout, you'll notice that the movie theater marquee that can be seen in the background is showing Play Misty for Me, Eastwood's fantastic 1971 film that marked his debut as a director. You can clearly see Eastwood's marketing powers – via Malpaso Productions – beginning to exert itself.
Although Dirty Harry was a success at the box office, earning $36 million on a $4 million budget, there were many within the studio who objected to the film's use of excessive violence; and there were subsequently numerous edits that needed to be made before the film could be released without an X rating.
The film also had sharply divided reviews amongst critics, with legendary New York Times film critic Pauline Kael calling the film a "right-wing fantasy," as well as deeming it "fascist medievalism" The Dirty Harry review by Kael would go on to become one of her most famous and talked about pieces.

Eastwood, as stated earlier, was having a banner year in 1971. After grinding it out in television and Italian westerns for over 15 years, all of his hard work had finally paid off. Dirty Harry, Play Misty for Me and The Beguiled were all released in 1971. This was the key turning point in Eastwood's career, and he was now considered a bankable A-list movie star, and an established director who could get a movie in on time, under budget, and turn a profit.
Play Misty for Me earned almost $11 million at the box office on a $950,000 budget and was finished 5 days ahead of schedule. Four more "Dirty Harry" films would be released, all of which would star Eastwood: Magnum Force (1973), The Enforcer (1976), Sudden Impact (1983 and directed by Eastwood) and The Dead Pool (1988).
Was Harry Callahan a right-wing fascist cop? That is something that has been debated for 50 years, and will continue to be debated for years to come. There's no right or wrong answer. The case can certainly be made that characters like Popeye Doyle and Harry Callahan were the first modern American "anti-heroes." Roger Ebert famously wrote:
"if anybody is writing a book on the rise of fascism in America, they ought to take a look at Dirty Harry"
With the war in Vietnam exploding into our living rooms every night on TV, the landscape of movies and television was dramatically transitioning from westerns and war movies to cops and detectives fighting in the streets of the inner-cities, and Archie Bunker yelling slurs from his comfy chair in lower-middle-class Astoria, NY (it's super expensive now). America was a rapidly changing country and needed new heroes besides John Wayne and Gary Copper to reflect this change.
Films such as The French Connection and Dirty Harry clearly was the result of this, and these films would redefine how our screen heroes would look and act for many years to come.

Next week…My mind is a blank. Uh, and I'll smash your face for you, yarblockos!
Sound off Outposters and let me know what you think!
Hugh "Evil Ash" Feinberg
To read the The French Connection 50th Anniversary – Click here 
To read the Diamonds Are Forever 50th Anniversary – Click here
---